The organization
Novo Textiles is a British Columbia-based manufacturer of textile products, having pivoted to PPE production at the start of the COVID-19 pandemic in March 2020. They have since manufactured over 15 million masks for Canadian frontline workers, dentists, teachers, civilians, and most recently partnered with the Provincial Health Services Authority of B.C. as a preferred vendor.
Harbour Technologies is an Ontario-based supplier of automated systems, custom tooling, and machinery. Their team builds highly technologically advanced manufacturing systems for several government industries and automotive subsectors.

It's crucial to have advisors that are unbiased and arms-length that can offer critical perspective on the project."
The challenge
With Canada's reliance on imported PPE, the product supply came to an abrupt halt as the global pandemic caused factory shutdowns in China. Novo was the first Canadian company to successfully pivot to manufacturing procedural masks and were well on their way to becoming the first manufacturer of Canadian-made N95/N99 molded cup respirators.
Jason Zanatta, CEO at Novo, overcame many obstacles to secure initial imported machinery. But he knew his end-game was to create a completely vertical, solely-domestic supply chain using equipment machined and manufactured in Canada. Novo's quick pivot and plans to produce N95/N99 molded cup respirators with their own proprietary design gained significant media and political interest. The national press coverage found Jason with new connections—one of which was Harbour Technologies, who reached out soon after reading about Novo's initiative.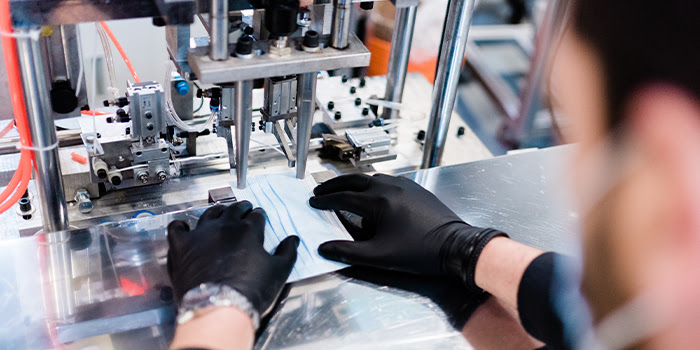 "They called me up and said, 'We're a Canadian robotics automation manufacturer and we're working to reverse-engineer an internationally-certified molded N95 respirator mask,'" Jason recounts. He knew this was crucial—as most available, imported machinery produced folded respirators (which are not certifiable for medical use). With that, Jason kick-started his plan to secure domestically-manufactured machinery.
As Jason encourages, "We have all the skills and capabilities here in Canada but are [unfortunately] quick to jump for cheaper alternatives. That kind of approach doesn't work in a pandemic when foreign suppliers turn off the tap of supply."
The solution
Novo's proprietary respirator design, coupled with Harbour's ability to reverse engineer their prototype and custom design machinery, paved the way for six months of planning, execution, and testing. Prototypes were reviewed for months between the two manufacturers, alongside BDO. Partner George Stefan and his team in BDO's SR&ED and Government Incentives group have been providing guidance on applications for NGen supercluster funding throughout the process.
In December 2020, NGen awarded Novo $900K towards the development of N99/95 cup-shape respirators and the Canadian-made manufacturing machinery systems.
"The soon-to-be-ready N95/N99 cup-shaped molded respirators made by Canadian-designed, engineered, and fabricated automation equipment is a milestone endeavor," says Jason.
The equipment will be used to manufacture the respirators at Novo's head offices in Coquitlam, B.C. The partnership has put Novo and Harbour on the global stage while strengthening business for both companies.
"This is good for Harbour because it is the first of many more machines that they will custom build for Novo," Jason acknowledges. "It's good for Novo (and B.C.) as it will secure Western Canada's supply chain for procedural masks and respirators for a long time to come. The quality and product security are infinitely better than offshore outsourcing for PPE."

A pivot is part gut instinct, part business forecast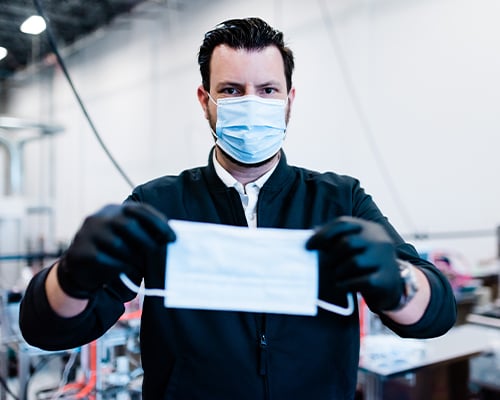 The outcome & benefits
The project disrupts the current domestic PPE industry as it pushes boundaries with new manufacturing technologies, built-in testing capabilities and fully automated systems. The new equipment will provide customized flexibility to modify materials and mask fit, creating the highest level of quality and test-controlled respirators within the Canadian marketplace.
Jason continues: "Domestic manufacturing is important. 'Made in Canada' is important. Not just for PPE—but for all kinds of critical infrastructure. It's good for the economy, for national security, and for our country's morale."
Providing guidance to these manufacturers in their new Canadian-made initiative gained BDO two new clients. Prior to any funding grants, both Novo and Harbour have been incurring their own costs to develop technology, machines, and finished products. Throughout the process, the manufacturers have constantly been working with BDO's help to answer all of NGen's questions to secure a final contract for funding.
"Another crucial element," Jason suggests, "is to have advisors that are unbiased and arms-length that can offer critical perspective on the project."
He concludes:
"An expert team of advisors like George and the BDO team in the background is essential. Having them on hand to vet all your entrepreneurial ideas and tell you 'yes, this is going to work' or 'let's rethink this' strengthens the process."
Contact
No matter where you are on your cybersecurity journey, we'll cover all your assessment needs in a single engagement—both today and as your security requirements grow or change in the future.
For more information, contact:
George Stefan, MBA, PMP, P.Eng. | Partner, BDO Canada
Jeremy East, CPA, CA | Partner, BDO Canada
Julie Zanatta, Managing Partner, Novo Textiles