Published: July 07, 2022
Updated: July 07, 2022
Government and public sector organizations in Canada are in the midst of a digital transformation. Canadians increasingly expect government at all levels to be responsive to their needs, and want programs and services they can access digitally. Along with policies and strategies driving accelerated adoption of digital capabilities, this means public sector organizations cannot slow down on innovation.
Now more than ever, government and public sector systems and applications must be flexible, scalable, and cloud ready.
"As Canada's economy recovers from the pandemic, the need for digital government is more pronounced than ever: a government that is more open and more collaborative and that provides improved digital-first, user-centred services and programs."
In our previous article, we described how to envision your cloud migration strategy. Now it's time to execute on that plan.
Execution can be the most challenging phase of any large-scale cloud migration initiative. It's critical for public sector organizations to get it right, but without a suitable strategy and level of expertise, barriers within existing legacy IT ecosystems can impede innovation. A poorly executed migration can have any number of consequences, including service delivery and financial impacts, reputational damage, regulatory compliance issues, and even cyber or privacy risks.
In part two of our three-part series on large-scale application migration for the public sector, we examine the challenges public sector organizations face with executing a cloud migration strategy, and how to overcome them to move forward with confidence.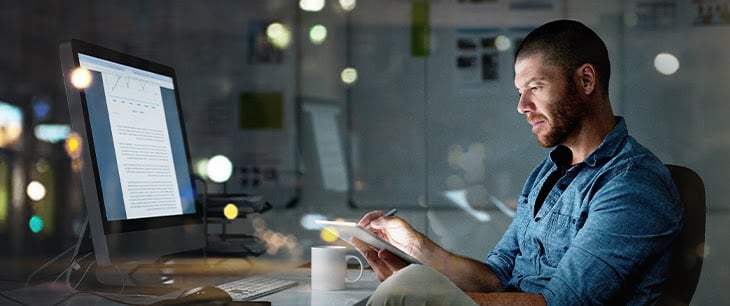 What makes large-scale application migration so difficult for public sector organizations?
The viability and benefits of moving enterprise IT systems to the cloud are well recognized, but how to do so at scale is where many organizations struggle. Public sector organizations have massive and diverse portfolios of enterprise applications, which makes large-scale migration extremely complex.
Public sector organizations face three major challenges when executing an application migration strategy.
Policy frameworks for project delivery anchored in waterfall processes and multiple layers of decision-making governance impact an organization's ability to adapt and respond quickly to change. Traditional waterfall methodologies slow down cloud migration and other digital transformation projects with long lead times, delays, and inefficiencies. The old way of doing things doesn't align with the public sector's desire for increased agility, nor with new and innovative capabilities offered by the cloud's modern technology tools and platforms.
"The larger the scale of your application portfolio—potentially hundreds or even thousands of enterprise applications—the bigger the impact a lack of agility will have," says Iryna Aliakseyeva, Business Analysis and Quality Assurance Sr. Manager at BDO Lixar.
What's the solution? Public sector organizations must be deliberate in adopting a more flexible approach that allows them to adapt to change effectively. This means having the right people and technology in place to help drive innovation forward. It also requires agile processes for project delivery and in the governance framework so that the organization can rapidly change course when necessary in response to shifting government priorities, legislative drivers and policies, and the outcomes of application discovery and options analysis. See our article on agile governance for further details.
Every public sector organization has aging technology infrastructure and disconnected systems that have been deployed over time—customized, upgraded, and patched through years of expansion to meet the evolving needs of Canadians and often faced with inadequate documentation and diminishing technical support. This is well recognized in the federal and provincial public service, and remediation is vital to progress on the government's digital agenda. This is so significant that modernizing legacy IT systems is identified as the first of the strategic pillars in the federal government's 2021-2024 Digital Operations Strategic Plan—along with improving service, implementing enterprise, and transforming the institution to map the federal public sector's digital plan.
Adding to the issue of outdated technology, the original business and technical owners of legacy applications may have retired or moved on to other roles or organizations. Loss of knowledge and critical information about legacy applications, exacerbated by inadequate documentation and diminishing technical support, creates a significant challenge to the organization as you prepare for your cloud journey.
What's the solution? Reverse engineering of the logic and functionality can determine an application's intended purpose and how it works, but that alone doesn't complete the picture. In many situations, organizations need to combine reverse engineering with a top-down approach that prioritizes new business requirements and capabilities, as well as identifies applications of low business value or that are no longer needed.
The Government of Canada Right Cloud Selection Guide provides guidance when deciding whether to target public cloud, private cloud, or non-cloud infrastructure. Performing an options analysis can also determine the best cost-value scenario for an application, allowing you to determine the best strategy for each application - whether that is repurchasing a software as a service (SaaS) solution to replace it, developing a modernization/refactoring plan, or another option.
As organizational business lines and sectors have grown and evolved, the tendency has often been to invest in silo solutions to meet specific needs. This has resulted in limited standardization and lack of integration when it comes to processes and methodology and redundant investment. As a result, the modernization and cloud migration process can be difficult and overly complicated.
The resulting environment is one of duplicate functionality in some areas across the enterprise, and gaps in others.
What's the solution? Perform a detailed assessment and rationalization of your application portfolio. Having inventoried and categorized your portfolio during the concept stage of your cloud journey, the next step is to conduct a more detailed assessment that includes mapping applications to enterprise capability models. This clears the path to perform the detailed options analysis so that the right strategy is determined for each application. This will equip you with the information needed to design your application migration program and prepare the roadmap for your journey to the cloud.
By addressing the challenges above and incorporating them into your strategy from the beginning, your organization will be better positioned for a successful cloud migration.
Successfully executing a large-scale cloud migration strategy
Transforming the entire ecosystem all at once may not be feasible. The strategy that makes sense for most public sector organizations is to focus on quick wins and pilot projects, which will ensure progress towards migration targets and help garner support for subsequent phases of migration.
Executing a successful application migration includes the following steps:
Identify the specific application strategy, technology, business capability, or scenario for migration. Establishing a repeatable approach will allow the project team to develop efficiencies and save costs.
For each application, decide on the correct strategy—one of the "6 Rs" of application migration, which are rehost, replatform, refactor, repurchase, retire, or retain. This will define the migration program, and determine the migration roadmap, execution plan, and processes to follow.
Leverage the know-how of an experienced cloud migration partner to establish a tailored design and architecture that aligns with your migration strategy.
Perform a gap analysis to identify any governance, risk, or compliance issues.
Document and agree on general processes (e.g., for decommissioning, security acceptance).
Assess and confirm the strategy, plan, and processes identified in step one, paying close attention to any additional analysis needs or new data. Does the information require you to change or adjust your initial strategy and roadmap?
Identify the elements of your technology stack that require modernizing. Modernization is a prerequisite for any cloud migration—your organization cannot succeed without it.
Consider establishing new cloud infrastructure, decommissioning plan for legacy application and infrastructure, data retention policies and approach, modernization activities, and need for data migration.
Consider external and internal dependencies on other programs, vendors and partners including cloud service providers, applications, and procurement timelines.
Plan for deliverables required by the gating process. Consider that the gating process is likely to impose significant constraints on project planning and agility of execution. Review the plan with all key stakeholders, including but not limited to the business, application owners, cyber/IT security, information/data governance, enterprise architecture, and leadership teams.
Implement your modernization and migration plan, including user acceptance testing.
Implement your communication, change management, and training plan.
Early planning for transition and knowledge transfer between the project delivery and solution/cloud operations teams for maintenance and support is recommended, where required.
Document lessons learned and test results for optimization and future projects.
One of the most important things to be aware of throughout the execution, is the need to be flexible and course correct as required.
"Your initial plan could change as you design your execution or even as you execute. You may need to change application strategies from rehosting to replatform or refactor. Given new findings and considerations, don't hesitate to revisit your strategy, reinforcing the need for agile project delivery, and decision-making processes and governance frameworks."
Finding the right cloud migration partner
Cloud migration is complex, with a myriad of challenges (often unexpected) at all points of the journey. The value of seeking assistance from a qualified cloud migration partner can't be overstated—no organization has all of the internal capabilities to do it alone.
With BDO, you get a professional, experienced team that understands the public sector and its policy and legislative frameworks that you must operate within. We bring defined approaches and processes for every step of a large-scale cloud migration, from initial consultation, assessment, and planning to IT delivery and cloud optimization. Your organization will be able to leverage the frameworks, accelerators, and tools we've developed through our work on other large-scale migrations, as well as our partnerships with leading cloud providers.