Published: September 21, 2022
Updated: September 21, 2022
Early-stage tech founders often occupy every role in the C-suite. As the chief executive officer, they set the mission. As the chief operating officer, they oversee all operations. As the chief technical officer, they improve the R&D. As chief financial officer (CFO), they manage financing, fundraising, cash, and compliance.
In most cases, founders struggle as they try to successfully manage to wear this many hats. This jack-of-all-trades by necessity stage often goes on for too long, preventing the founder from behaving as a true CEO.
When a tech founder does begin to spread the executive functions among a team, they often look at the CFO as one of the first roles to fill. Typically, they decide between three options: full-time CFO, a part-time CFO contractor, or hiring a professional services organization to provide value-added CFO services.
What do CFO services include?
CFO services include supporting and collaborating with existing CFOs or providing a fractional CFO as a strategic financial consultant. A highly experienced fractional CFO works with businesses in an on-going, part-time basis, providing the start up with financial acumen in an agile and cost-effective solution. They work across different stages of growth but cost less than a full-time, in-house CFO. BDO's range of services can support your business in a number of ways, including:
Financial stewardship
Cash flow projection
Break-even analysis
Bank negotiation
Budgeting and forecasting
Strategic business planning
Benchmarking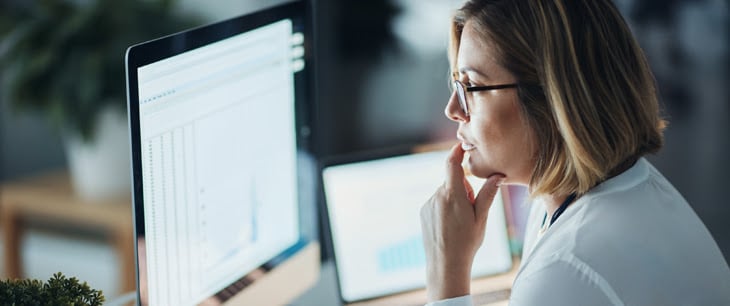 Here are six strategic reasons CEOs consider hiring a professional services organization to provide CFO services
Tech businesses create some of the most complicated operations in the business world. From a CFO's perspective, there are two reasons:
Pre-revenue time lag before product launch. The pre-revenue stage of starting a tech company uses capital and R&D to create a product. The selling begins later on. This time lag affects not only the founders but also the investors, who invest cash upfront but may not see a return until later. As a result, the CFO needs to bring a highly strategic approach to a role that cannot be performed simply by the numbers.
International business. Leaders of Canadian tech companies face a slew of business challenges that don't commonly arise in other companies of the same size and stage. An example: tech companies often look beyond Canada's borders to not only find clients but also to find talent. With teams and clients in multiple locations, a tech company's CFO needs to properly handle tax and compliance in many jurisdictions.
Many tech companies first try to source high-quality CFO talent by using an independent contractor. When they realize the breadth of experience and knowledge required for their industry, they look to an organization that specializes in CFO services, where the CFO seeks input from the right tax experts, as needed by the business.
By now, you've likely heard of "the great resignation". Because of the pandemic, workers are quitting at historic rates and are reconsidering where and how they want to work. Labour shortages and high turnover rates are impacting everyone, and the CFO role is not exempt. But turnover in the CFO role can post serious risks for an organization—it can disrupt audit cycles, audit quality, financial reporting, and governance and compliance requirements.
Utilizing a CFO services partner solves this problem before it starts by providing continuity. But if your CFO quits, BDO will place CFOs who are the right fit for your organization, they can hit the ground running and provide a positive impact in short-order.
While many tech companies need the quality of a seasoned CFO, they don't require them on a full-time basis—or can't afford to hire them full-time. As a result, they often keep the CFO position vacant or over-rely on a day-to-day controller who doesn't bring senior level financial leadership experience to support a founder in making higher quality business decisions.
A better solution is to use CFO services. This allows founders to customize the amount of time spent on their business needs—and therefore also the cost to the business. A great CFO services partner will be able to adjust their services as you grow. As your needs change over time, you can rely on your service provider to offer the right level of expertise at a cost that makes sense for your business.
Capital is the lifeblood of a growing tech company, but founders sometimes fail at fundraising because they don't speak the same financial language as their investors. This is where the CFO and their financial fluency can play a key role. Venture capitalist's need to ensure a ROI and will want to review the financial past, present, and projected future of the company, presented in accordance with a specific reporting framework.
If the founder is successful in securing capital, some investors will require regular financial reporting going forward. Enlisting CFO services can ensure they receive accurate reporting in a timely manner.
Learn more about the surprising ways a CFO helps founders raise capital
A tech founder doesn't have time to train a CFO. They need the CFO to know the role without significant onboarding. Most of all, they need the new CFO to take those responsibilities off the founder's hands quickly—items such as financing, strategy, financial reporting and forecasting, and be a trusted partner in navigating board and investor relations. And they need the CFO to perform the role better than the founder could.
Partnering with a CFO service provider eliminates the onboarding time crunch. A top-quality CFO knows the questions to ask and the possible answers. They join the organization as a partner for the founder or founding team, not as a standard employee. From the start, they offer strategic advice to help the founder make decisions.
The complexity of a tech company means that even the most talented CFO needs to consult with other advisors in their network. By engaging a CFO from a full-service organization, a tech founder has access to specialists on topics from domestic sales tax to tax credits for R&D to the latest payroll compliance standards. The connected CFO service partner can quickly and easily access a massive network of seasoned specialists able to help your business grow.
At every stage: The shifting role of a CFO
Most tech founders launch their business with hope and determination—but no guarantee of success. When they do find that product-market fit, the role of their CFO may change to match the founder's vision. The fundraising strategy adapts to the expectations of venture capital. Cash-flow concerns mature. Through it all, the CFO shifts their role, helping the founder match hope with reality, and by partnering with an organization that specializes in CFO services, you'll be ready to meet the demands of your business as it grows.
For more information please contact:
Peter Matutat
Partner, National Technology, Media, & Telecommunications Leader