Published: November 01, 2021
Updated: November 01, 2021
The following analysis focuses on private, mid-market technology, media, and telecom (TMT) company valuation trends, as guided by North American publicly traded companies with an enterprise value of less than $1 billion. Smaller public and private companies are valued differently from very large public companies. Market leaders such as Alphabet, Facebook, and Microsoft are valued at a premium based on their strong brand and highly diverse and recurring revenues.
For illustration, the average revenue multiple of the 50 largest companies in the sectors profiled below (including companies such as Alphabet, Facebook, and Microsoft) was 13.4 times revenues, whereas for those with an enterprise value of less than $1 billion it was 3.2 times revenue. As such, the following is more relevant to smaller private companies.
Public market indices ended the summer near all-time highs with the NASDAQ Composite Index at 14,448 just 6% off its all-time high of 15,374 achieved in early September. Mid-market tech sector multiples peaked earlier this year but remain in an uptrend from their March 2020 lows. The summer of 2021 saw declining revenue multiples but steady EBITDA multiples, reflecting earnings catching up to expectations. The following highlights an average of 46% EBITDA margin improvement between March 2020 and September 2021.
Highlights Table
EBITDA Margin
March 2020
EBITDA Margin
September 2021
Software
14.4%
18.2%
IT Solutions
9.0%
17.8%
Telecom
6.6%
12.5%
Media
19.4%
24.0%
Data Sample
We used S&P Capital IQ's industry definitions to guide the following grouping for North American (U.S. and Canada) publicly traded companies with an enterprise value of less than $1 billion but greater than $10 million, to avoid illiquid penny stocks. The list was compiled monthly from September 2018 to Sept. 30, 2021. Averages have been adjusted for select outliers.
Of the 240 companies examined with a market cap between $10 million and $1 billion, the revenue multiples ranged between 2.2 and 4.0 and EBITDA multiples ranged between 13.4 and 22.1.
The following summarizes the sectors highlighted.
Software
The software group comprises of 83 companies and includes enterprise software companies such as, ERP and CRM solutions, small and medium sized business (SMB) applications, and systems software. Representative companies include Absolute Software, American Software, and Sylogyst. This group does not include Microsoft, Salesforce, or Constellation Software which are valued at over $1 billion.
The average mid-market software company was valued at 4.0 times LTM (Latest 12 Months) revenues and 22.2 times LTM EBITDA. This sector had the strongest recovery from the March 2020 lows with the revenue multiple increasing by 60%. Software companies were valued highest among the four sectors examined, justified by also having the highest three-year average revenue growth rate of 44% per annum and the highest average gross margin of 55%.
IT solutions
The IT solutions group comprises of 47 companies and includes companies that provide IT systems management, enterprise software integration and management services, data processing and outsourced services, and systems hosting. This includes companies such as Computer Task Group, Alithya Group and Pivotree; it does not include IBM, Cognizant, or CGI which are valued at over $1 billion.
The average IT solutions company was valued at 3.3 times LTM revenues and 18.8 times LTM EBITDA. The infrastructure hosting / managed services subsector was already strongly valued based on its mission critical nature and extreme customer stickiness. Since March 2020, it has benefited further from the stay-at-home impact of the pandemic. The average IT solutions revenue multiple more than doubled from 1.5 in March 2020 to over 3.3 times today.
Telecom
The telecom group comprises of 50 companies and includes alternative carriers, communications infrastructure software and hardware companies, and wireless equipment manufacturers. This includes companies such as, NETGEAR, Sierra Wireless, and Sangoma Technologies; it does not include AT&T, Bell, or Rogers which are valued at over $1 billion.
The average telecom company was valued at 2.2 times LTM revenues and 17.6 times EBITDA. This sector was surprisingly stable during the initial phase of the pandemic. It saw some improvement into the spring of 2021 with the revenue multiple improving but the EBITDA multiple holding steady, an indication of improving profitability. Average telecom sector EBITDA margin improved from 6.6% in March of 2020 to over 12% in September of 2021.
Media
The media and entertainment group comprised of 60 companies including, advertising, broadcasting (video and music), and interactive media and video games. This includes companies such as Townsquare Media, Postmedia Network, and Stingray Group; it does not include Alphabet, Facebook, Netflix, or Electronic Arts which are valued at well over $1 billon.
The average media company was valued at 3.2 times LTM revenues and 13.4 times EBITDA. The media sector was the most profitable among the sectors examined with the average EBITDA margin of 24%, higher than the software sector at 18.2%. This translated to media having the lowest average EBITDA multiple, but the second highest revenue multiple.
Conclusion
What does this mean for your business? Each business is unique and the above overview presents one of multiple considerations that go into valuing a private company. Smaller private companies may warrant further liquidity discounts. However, in a sale scenario, the control premium that is not represented in publicly traded shares can compensate for that. Companies with unique solutions, healthy margins, and above average revenue growth may well exceed the multiples illustrated above.
If you have any questions about the value of your technology company, download our selling your technology business guide here, or contact Derek van der Plaat.
Recent BDO closed transactions
BDO provided divestiture advisory services to Posera Ltd., the developer of Maitre'D point-of-sale (POS). Maitre'D is a full service, feature-rich POS solution that works in environments of all sizes such as fine and casual dining, table service, family restaurants, quick service, hotels, and bars. Posera was sold to PayFacto Inc., a leading digital payment processing services company.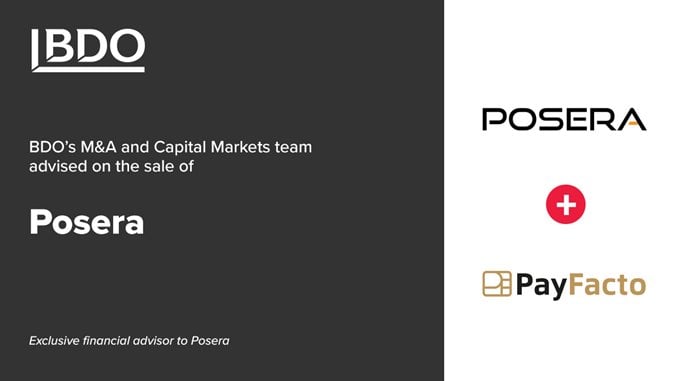 To learn more, please contact
Derek Van der Plaat
Managing Director – M&A and Capital Markets