Published: April 20, 2022
Updated: April 20, 2022
The Federal Budget announced on April 7, 2022, outlined a number of new spending initiatives focused on stabilizing the economy and helping Canadians navigate through uncertainty.
For mining companies, the budget puts forward a message of opportunity for the sector, to help position Canada to lead the way to recovery where supply chain challenges have impacted the global economy.
Below is a summary of the proposals that may apply to several companies in the mining sector in Canada.
Canada's Critical Minerals Strategy
As the budget points out, critical minerals are at the centre of major global industries including clean technology, healthcare, aerospace, and computing, and will continue to be in high demand for the years to come. With Canada's abundance of valuable critical minerals, the budget recognizes the need for significant investment to make the most of these resources.
Budget 2022 proposes up to $3.8 billion in support over eight years to implement Canada's first Critical Minerals Strategy. This is expected to create thousands of jobs, grow the economy, and make Canada a leader in the global critical minerals industry.
Key proposals supporting critical minerals projects in Canada include:
Up to $1.5 billion over five years, for infrastructure investments that would support development of critical minerals supply chains, with a focus on priority deposits
$79.2 million over five years for Natural Resources Canada to provide access to integrated data sets to inform critical mineral exploration and development
Introduction of the new 30% Critical Mineral Exploration Tax Credit for specified mineral exploration expenses incurred in Canada and renounced to flow-through share investors
The budget proposes significant funding to make Canada a more attractive destination for critical minerals investment and secure valuable agreements to help increase production of goods such as electric vehicles and batteries. This includes up to $1 billion over six years starting in 2024-25 to Innovation, Science and Economic Development Canada for the Strategic Innovation Fund which, when combined with $500 million provided from existing program funding, will provide $1.5 billion in targeted support towards critical minerals projects, with prioritization given to manufacturing, processing, and recycling applications.
The budget proposes new funding to continue to make Canada an attractive country for critical mining investment. This includes:
Up to $144.4 million over five years, starting in 2022-23, to Natural Resources Canada and the National Research Council to support research, development, and the deployment of technologies and materials to support critical mineral value chains
An important piece of this Critical Minerals Strategy, designed to help projects move forward in Canada, is the budget announced investments in improving regulatory processes, including:
$10.6 million over three years, starting in 2024-25, to Natural Resources Canada to renew the Centre of Excellence on Critical Minerals, which works with provincial, territorial, and other partners, and that will provide direct assistance to help developers of critical minerals navigate regulatory processes and existing support measures
Up to $40 million over eight years, starting in 2022-23, to Crown-Indigenous Relations and Northern Affairs Canada to support northern regulatory processes
To ensure an efficient and effective impact assessment regime, the Federal government will consider the funding requirements for the Impact Assessment Agency and other relevant departments in the context of the fall 2022 economic and fiscal update. This will help support the assessment of major projects including critical mineral mines
To position Canada as a trusted partner in the global critical mineral supply chain, the budget proposes:
$70 million over eight years, starting in 2022-23, to Natural Resources Canada to advance Canada's global leadership on critical minerals, in particular to meet its responsibilities under the Extractive Sector Transparency Measures Act
The budget is also proposing $103.4 million over five years, starting in 2022-23, to Natural Resources Canada for the development of a National Benefits-Sharing Framework for natural resources and the expansion of the Indigenous Partnership Office and the Indigenous Natural Resource Partnerships program. At least $25 million of this amount will be dedicated to early engagement and Indigenous communities' capacity building to support their participation in the Critical Minerals Strategy.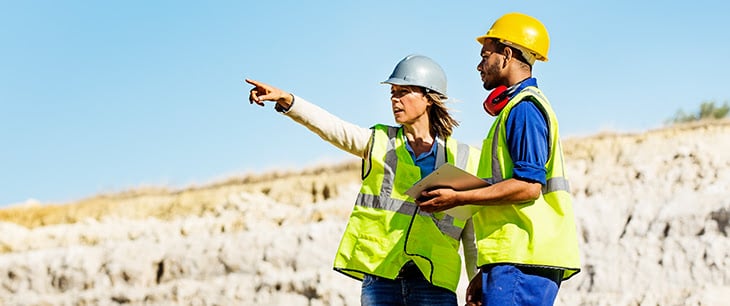 Key takeaways
Understanding the Critical Mineral Exploration Tax Credit
One of the key proposals for supporting critical minerals projects in Canada is the new 30% Critical Mineral Exploration Tax Credit for specified minerals consumed in the production of batteries and permanent magnets used in zero-emission vehicles, or in the production and processing of advanced materials, clean technology, or semi-conductors.
The tax credit would apply to eligible materials including nickel, lithium, cobalt, graphite, copper, rare earths elements, vanadium, tellurium, gallium, scandium, titanium, magnesium, zinc, platinum group metals, and uranium.
Eligible expenditures would not benefit from both the proposed Critical Mineral Exploration Tax Credit and the existing Mineral Exploration Tax Credit, which is equal to 15% of specified mineral exploration expenses incurred in Canada and renounced to flow-through share investors.
The Critical Mineral Exploration Tax Credit would apply to expenditures renounced under eligible flow-through share agreements entered after April 7, 2022 and on or before March 31, 2027. Read full details on Federal Budget 2022 tax measures here.
Attracting mining talent as new jobs are created
The proposals put forward in the budget's Critical Minerals Strategy offer a glimpse into an innovation and sustainability purpose-led future for the mining sector, where new jobs will be created in order to fuel the demand for essential technologies such as phones and computers, while harvesting the materials needed for electric vehicles to power the net-zero future.
As discussed in our recent Future Workforce report, the natural resource industry is currently facing recruitment and talent pipeline challenges, with 74% of Gen Z participants stating they were not at all interested in a career in mining. The report also found that many young Canadians (43%) are highly motivated by playing a role in achieving net-zero emissions targets by 2050.
With the above-mentioned government measures, mining companies have a greater opportunity to fill future jobs and build their younger workforce by highlighting the integral role critical minerals continue to play in powering clean technologies required for our net-zero emissions future.
For more information, please contact
---
The information in this publication is current as of April 19, 2022
This publication has been carefully prepared, but it has been written in general terms and should be seen as broad guidance only. The publication cannot be relied upon to cover specific situations and you should not act, or refrain from acting, upon the information contained therein without obtaining specific professional advice. Please contact BDO Canada LLP to discuss these matters in the context of your particular circumstances. BDO Canada LLP, its partners, employees and agents do not accept or assume any liability or duty of care for any loss arising from any action taken or not taken by anyone in reliance on the information in this publication or for any decision based on it.